At JollyPlace we strive to provide the optimal learning environment for your child. We understand the importance of learning and our qualified, Montessori-trained staff is always available to assist your child in activities and provide motivation for future learning. Choosing an educational institution for your child is an important step that should not be taken lightly. JollyPlace Montessori School sets up a very high standard that you can see at our school. The same standard can be used to determine the right educational institution for your child.
1. Accredited Programs and Curriculum – JollyPlace is accredited by the VA Council for Private Education and meets all licensing requirements as per Virginia State Social Services guidelines.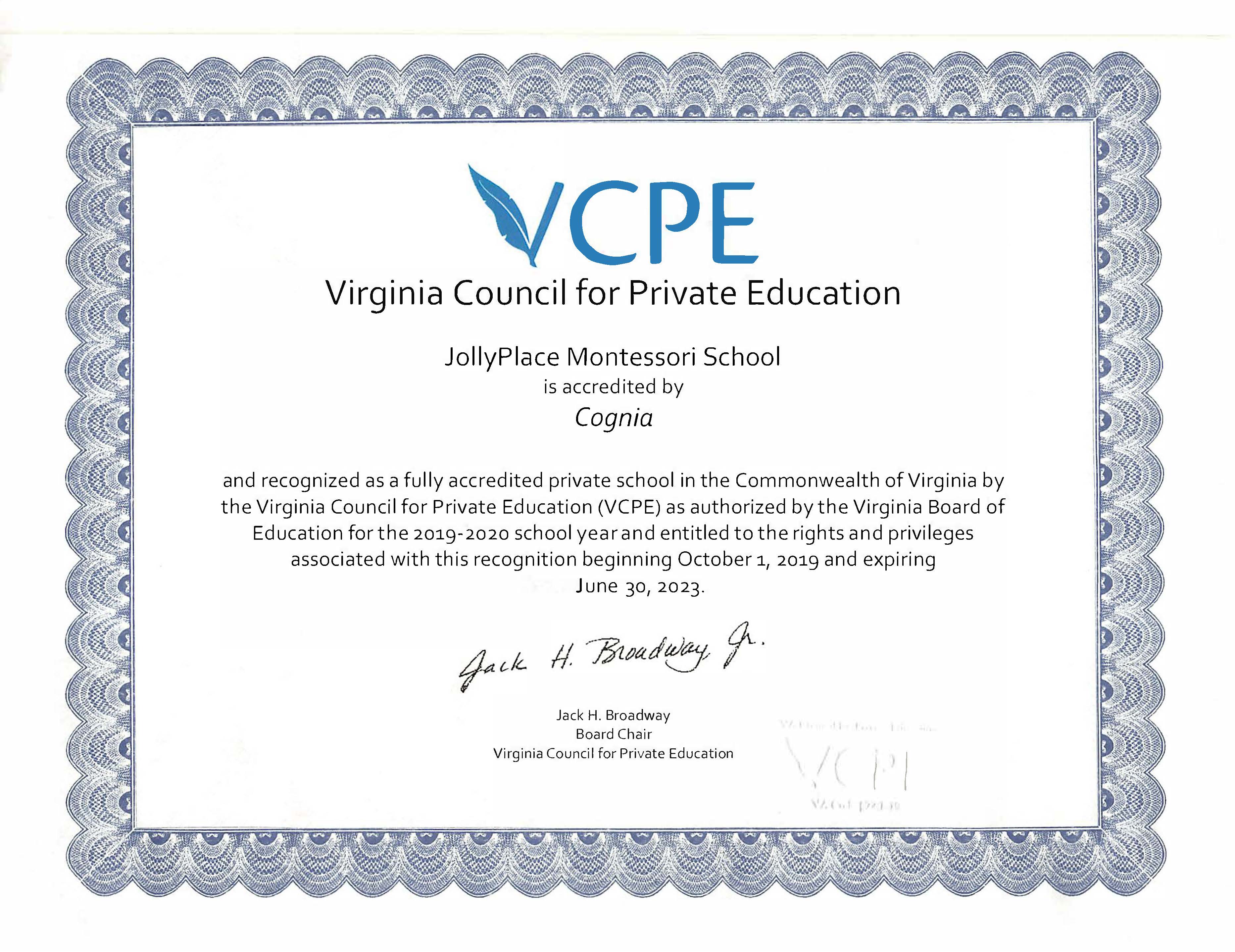 2. JP Junior Elite Program – JollyPlace incorporates special classes and activities into the weekly schedule. Currently, the special classes and activities offered are Happy Feet Soccer, Music and Creative Movement, Physical Education, Spanish and Taekwondo.
3. Montessori Certified Teachers – JollyPlace teachers are Montessori-certified, college-educated, and trained in early childhood development education. Their interactions with children are responsive, nurturing, and warm. JollyPlace offers a low teacher-to-child ratio to meet the individual needs of all children.
4. Open Parent-school Communication – We provide comfortable, ongoing communication with parents through a variety of means such as email, phone, and messaging. Parents are regularly updated about their child's day at pickup time. JollyPlace provides four conference times throughout the year at the end of each quarter. Currently, conferences are conducted virtually.
5. Classroom Environment – We provide a nurturing and stimulating Montessori environment to grow your child's inherent potential. We create the so-called "prepared environment" in our classrooms and facilities. The "prepared environment" is as specified in the Montessori system and scientifically proven to optimize all areas of a child's development.
Classrooms are very spacious, well-lit, and with ample natural light.  Materials and equipment are authentic Montessori and high-quality.
6. Facility – JollyPlace school is a spacious facility is located in a quiet, safe neighborhood. The school spans over 1 acre of the tree-lined outside play area, an enclosed outside playground, and access to an indoor gymnasium.
8. Health & Safety – The school adapted detailed policies and procedures to help minimize the risk of a disease spread in accordance with CDC guidelines. Currently, parents' drop-off and pick-ups are limited to the front door entry. Students' temperature is taken and sanitizer applied. Students must enter the school wearing a facial covering. Parents and guardians must adhere to the facial covering policy as well during drop-off and pick-ups. Classroom equipment and materials are sanitized daily and the school facility deep cleaned each evening after students release.
9. Location – The school is located in Vienna, VA- adjacent to Thoreau Middle School. It is easily accessible from major highways, yet located in a quiet, tree-lined, safe neighborhood.